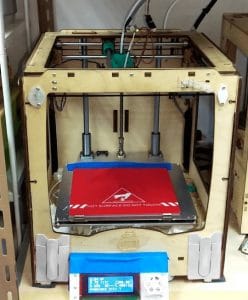 Last Update: May 10, 2020
Specification
Print Technology
FFF(Fused Filament Fabrication)
Max. Build Area
(W x D x H)
17x17x17cm
(6.7 x 6.7 x 6.7 inch)
Number of Nozzles
Single
Nozzle Diameter
0.3 mm
Filament Diameter
PLA
Filament Diameter
1.75 mm
Max. Printing Speed
Max. 70mm/s
Layer Resolution
Fine 0.06 mm (60 microns)
Standard 0.1 mm (100 microns)
Speed 0.2 mm (200 microns)
Z-step per 1 mm = 200 steps/mm (theoretic resolution = 0.005mm)
About Ultimaker Original
The Ultimaker Original was launched in 2011 and was distributed as a DIY kit at a price of €1,194.00. It was the first product sold by Ultimaker when the company had been found for just a few months. In 2012, it was awarded Fastest and Most Accurate 3D printer available by MAKE Magazine.
Related: Ultimaker: There's a New 3D Printer in Town | Make Magazine
In spite of the medal, it was born in the primitive period of low-cost 3D printers. Its frame mainly made of laser-cut plywood parts and assembled with bolts and nuts. In addition, the kit had no control interface, no LCD display, and no SD card reader attached to its electronics. The 3D printer must be tethered to a computer via a USB cable during printing. These issues became the major drawback of the Ultimaker Original.
The Ultimaker team revised the design of Ultimaker Original after releasing their second model, Ultimaker2. They started to sell official upgrade kits for Ultimaker Original. The extension kits included a control interface called UltiController, parts for an improved feeder, a new Z stage, and a glass heat bed. It's later on merged to be Ultimaker Original+ (Plus), which is still available to buy in 2020.
Related: Review: Ultimaker Original+ 3D Printer | Make Magazine
Meanwhile, many third-party kits were available on the market. Mostly made use of the parts from other brands of open source 3D printers, such as RepRap, Prusa, and E3D. For instance, our Ultimaker Original has customized with an E3D's V6 hotend for the extruder and a Prusa's LCD unit in the control box (You can find the components in the links listed below). The bloom of 3D printers offered a high variety of options to flexibly modify and hack the Ultimaker Original with open-source units and kits.
Note: This post includes affiliate links for which I may make a small commission at no extra cost to you when you make a purchase.
Useful links and resources
---
7 Featured 3D Printable Halloween Decorations in 2017
It has already been October. The Holiday Season is becoming…